Often termed as the Washington Think Tank, the Foundation for Defense of Democracies (FDD) is a non-profit institute focusing on national security, freedom and foreign policy. Described as non-partisan, it was founded in 2001 with the aim of developing strategies to counter terrorism, defend the democratic rights and values, and promote freedom through the support of investigative journalism.
Founded by Clifford D. May, FDD holds year-round events like expert roundtables, panel discussions, debates and briefings on Capitol Hill. They believe in transforming ideas into action by decisive policy making.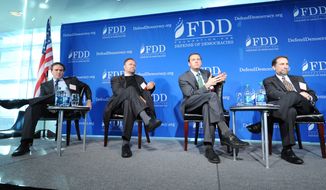 Their research
The Foundation for Defense of Democracies studies several national security issues and provides an analysis to the Congress members, including their staff, on the basis of which policies are framed. FDD's scholars provide briefings on critical issues keeping in mind the needs of the Congress.
Projects
FDD runs projects in various countries that include Iran, Turkey, Syria and Canada. Their project FDD's Long War on Terror is a project on Global War on Terror launched by the U.S after the 9/11 attacks. Their Turkey project focuses on providing analysis on the political tension that prevails and is led by Eric Edelman.
The Iran project led by Mark Dubowitz focuses on countering the threats Iran poses to America. Through detailed policy research, FDD experts provide an in-depth research analysis on the Iran nuclear issue as well as the Islamic Republic's activities.
What will the world be without Philanthropists!
The Foundation for Defense of Democracies is funded by philanthropists who are pro-Israel which FDD itself is. This was released in documents enlisted with the names of the major donors.
FDD's experts are regular in the media circuit by voicing their opinions through the media outlets especially in condemning Iran. Over the years they have become a chief organisation in spewing their combative approach towards Iran.